ALVR Blog: When Is a Witch Not a Witch? The Story Behind a Bewitching Jewel
The heart has been a symbol of love since the middle ages, but it hasn't always looked like the design we're familiar with today. 
In 17th century Scotland, the heart symbol took a little twist in both shape and meaning. Heart brooches with a slightly twisted shape were purchased as talismans to protect loved ones against evil spirits. They were called "Luckenbooth," so named after the closed booths in the jewelry quarter near St. Giles Cathedral in Edinburgh.
During the eighteenth century the British traded Luckenbooth tokens with Native Americans in exchange for beaver and other furs. The Haudenasaunee (Iroquois or Six Nations) were particularly fond of the motif and replicated the design into their own silverwork.
It was also during this period that the heart once again became a token of affection, given to a loved one as proof of being "bewitched" with love.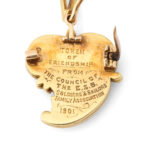 All of these meanings nicely converge in this witch's heart pendant, presented as a token of friendship from a charity dedicated to those who serve and protect. . The Soldiers', Sailors', and Airmen's Families Association (SSAFA) provides lifelong support to serving men and women and veterans from the British Armed Forces and their families or dependents. Founded in 1885 by Colonel Sir James Gildea (1838 – 1920), it is the United Kingdom's oldest national tri-service Armed Forces charity. HRH Prince Michael of Kent has served as president since 1982. Her Majesty Queen Elizabeth II formally opened the organization's new office at Queen Elizabeth House in London in November 2013.