Paul Flato Sapphire and Diamond Waterfall Brooch
Calibre sapphire and diamond waterfall brooch, set in platinum.
By Paul Flato
American, circa 1935
Length: 2-3/4 inches
$27,000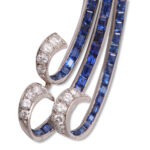 18kt Gold Antique Cat Brooch
18kt gold cat brooch, with emerald eyes and diamond collar, playing with a pearl ball.
French, circa 1890.
Length: 1-1/2 inches.
$4,200.
Highlights from our Paris Exhibition on View in NYC
On view at 781 Fifth Avenue through December.
Two Diamond Line-Bracelets
Vertical: Tiffany & Co. diamond and platinum bracelet with buckle design (approx. 7 carats).
Maker: Tiffany & Co.
American, ca. 1910
Length: 7-1/2 inches
$26,000
Horizontal: Art Deco platinum and diamond (round and baguette) bracelet (approx. 38 carats total).
English, ca. 1935
Length: 6-3/4 inches