Exhibitions
Masterpiece London 2017
June 29 – July 5
We are pleased to be exhibiting at Masterpiece London 2017!
Preview June 28.
South Grounds
The Royal Hospital Chelsea
London
SW3 4LW
TEFAF Maastricht 2017, March 10 – March 19
We are pleased to exhibit in this world-renowned art fair.  Stand 110. Stand telephone: +31-6-46-30-89-01
Maastricht, The Netherlands, March 10th – March 19th, 2017.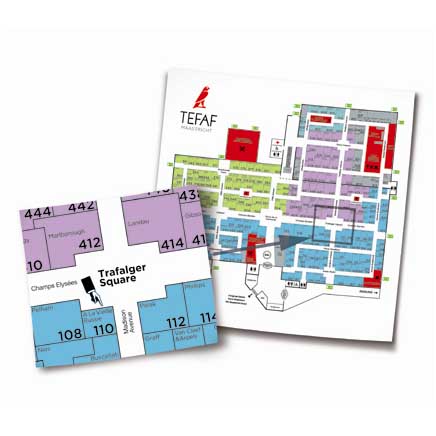 63rd Annual Winter Antiques Show: Opens January 20th, 2017
We are proud to continue exhibiting in the Winter Antiques Show, where we've participated virtually since its inception!
January 20th-January 29th, 2017
at the Park Avenue Armory
67th St. & Park Ave., New York City
OPEN DAILY 12 PM–8 PM
SUNDAYS & THURSDAYS 12 PM–6 PM
TEFAF New York Fall October 22-26
We are pleased to be exhibiting at TEFAF New York!
Saturday, October 22 -Wednesday, October 26
11 to 7:30 daily    (closes at 6 PM on Wednesday)
Park Avenue Armory
67th St. & Park Ave., New York City
More information can be found here.
The Nantucket Summer Antiques Show August 12-15
We are pleased to be exhibiting at The Nantucket Summer Antiques Show!
The Nantucket Boys and Girls Club
61 Sparks Avenue
Nantucket, MA 02554
Hours:
Friday, August 12:  12-5
Saturday, August 13: 10-5
Sunday, August 14: 10-5
Monday, August 15: 10 -3
Masterpiece London 2016 June 30 – July 6
We are pleased to be exhibiting at Masterpiece London 2016!
Preview June 29.
South Grounds
The Royal Hospital Chelsea
London
SW3 4LW
Visit us at The International Show: October 23rd – 29th, 2015
We have exhibited in all 27 editions of this fair.
At the Park Avenue Armory, Park Avenue and 67th St., New York City
October 23rd, 2015 – October 29th, 2015.
Learn more about it here.
Ended December 24th: Animals As Art: Wearable and Collectible
This exhibition proudly supports the mission of WOUNDED WARRIOR PROJECT to aid veterans recovering from physical and mental injuries and illnesses acquired from service on or after September 11th, 2001. Recovery programs, including mental health services, vocational training and employment assistance, are provided free of charge to wounded service members and their families.
Animals As Art: Wearable and Collectible features animals as inspiration in jewelry, fine, and decorative art, including jeweled critters, silver swan sauce boats, animal drawings by Alexandre Iacovleff, and of course, Fabergé animals.
Please join us in our salute to Wounded Warrior Project.
Exhibition Hours:
December 6th until December 24th, 2013
11:00AM until 4:30PM
Open Daily, Closed Sundays

A La Vieille Russie and Parmigiani
present
Mechanical Wonders:
The Sandoz Collection
.
.
ENDED DECEMBER 10th, 2011
ALVR was pleased to have hosted this very special loan exhibition, which was described by Brook Mason of Artnet as the nation's most enticing decorative arts show and not to be missed.
The first time that many of the pieces were on display to the American public, the exhibition featured early 19th century Swiss gold and enamel automaton snuff boxes, watches, magicians, and animals, the Imperial Swan Egg of 1906 and the Imperial Peacock Egg of 1908 by Fabergé, as well as contemporary interpretations by Parmigiani of watches in the Sandoz Collection.  In addition, the catalogue raisonné of the collection was introduced.
A 128-page fully-illustrated soft-cover exhibition catalogue is available for $35. plus applicable sales tax, shipping, and handling.  For ordering details, please send an email to: catalogues @ alvr.com, or click the image.
Photographs and video ©2011 Fondation Édouard & Maurice Sandoz (FEMS) Pully, Switzerland, or ©2011 Musée de l'Horlogerie du Locle, all rights reserved.
Photography: Renaud Sterchi.
Photographs and video may not be used or reproduced in any form.